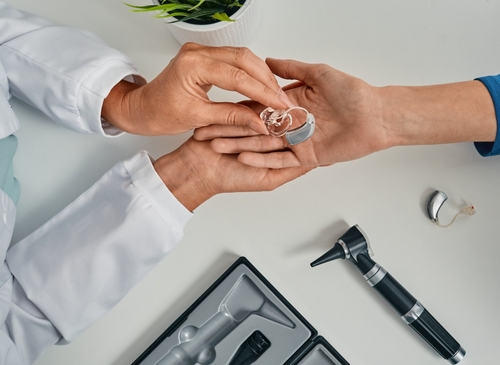 Hearing aids provide a range of hearing solutions, from hearing protection to hearing enhancement. But their long-term impact on hearing health and overall brain health goes beyond that. Studies have shown hearing aid users are less likely to suffer from dementia and depression than those with untreated hearing loss, as well as improved social functioning, a better sense of balance, and increased self-esteem due to improved communication skills. Additionally, research has connected hearing aid use with improved cognitive functioning in older adults over time.
Cognitive Aging and Hearing Aids
When it comes to cognitive aging, hearing aids may be the most important tool we have for preserving brain function. Not only do they improve communication abilities, but they can also help reduce age-related declines in cognition by giving the brain more stimulation through enhanced hearing. Hearing aids may even reduce the risk of cognitive decline in those with mild hearing loss, who are also at a higher risk of developing dementia.
Hearing aids can therefore have a significant long-term impact on hearing health and overall brain health. The benefits extend beyond just hearing better, as hearing aids improve quality of life by improving communication, social functioning, balance, and self-esteem. Research shows that hearing aid use is associated with improved cognitive functioning over time and may even help protect against age-related cognitive decline. With all these positive impacts, hearing aid use should be strongly considered for anyone experiencing hearing loss. 
Do Hearing Aids Reverse Dementia?
Hearing aids cannot reverse dementia, but they may help people who have dementia maintain their independence for an extended period of time. Here are some key considerations to keep in mind when it comes to using hearing aids as a tool to support individuals with dementia:
Keep Communication Open

– Hearing aids can make communication easier and more comfortable for those with dementia by amplifying sound and reducing background noise. This makes it easier for them to understand conversations, which can help prevent misunderstandings that could lead to frustration or confusion.

Be Aware Of Limits

– While hearing aids can be beneficial, it is important to recognize that they are not a cure-all solution and will not reverse any memory loss or other cognitive symptoms associated with dementia. However, they may help improve the patient's quality of life and ability to interact with others on some level.

Monitor The Situation

– It is also important to monitor how the patient responds to different stimuli while wearing hearing aids, such as increased noise levels or too much auditory information at once, as these could lead to agitation or distress in some cases. Make sure someone is keeping an eye on the situation and making any necessary adjustments if necessary.

Re-evaluate Regularly

– Have regular checkups with your doctor or audiologist so you can evaluate the patient's progress over time and make any necessary changes or adjustments if needed (such as increasing/decreasing amplification levels, changing the type of hearing aid being used, etc.).
Hearing Loss – Warning Signs
If you have noticed that you are becoming easily confused and seem to miss out on vital conversations, it is time to visit your audiologist. Age-related hearing loss is normal, but you don't have to suffer. Regular health exams can help identify the early stages of dementia and hearing loss, and your medical professional can help diagnose the symptoms your loved one is experiencing and refer you to an audiologist for a more in-depth diagnosis. 
Signs and symptoms of hearing loss may include:
Muffled sound when others speak

Background noises make it difficult to hear conversations

Difficulty hearing consonant sounds

Asking others to slow down, speak louder or repeat what they said.

Turning up the television or radio

Avoiding or withdrawing from conversations

Avoiding social settings or gatherings.
With an early treatment plan, you or your loved one can improve their quality of life. You will want to socialize again without fear of missing meaningful conversations and want to join in on the fun of being around people. Having a healthy social life will help your brain grow healthy neurons and maintain clarity.   
Hearing Aids Help Reduce Symptoms of Hearing Loss
Hearing aids can help reduce the symptoms of hearing loss by amplifying sound and improving auditory clarity. Here are some key benefits to consider if you're considering investing in a device:
Improved Speech Clarity

– Hearing aids make it easier to understand conversations, even in noisy environments, by reducing background noise while amplifying speech. This can be especially helpful for those with mild to moderate hearing loss who may otherwise struggle to communicate with those around them.

Increased Listening Ability

– Wearing a hearing aid makes it easier to listen to music, follow directions, and enjoy other audio experiences without having to strain your ears or fight against background noise. Any extra effort that would otherwise be required for normal listening is eliminated with the use of a hearing aid device.

Better Cognitive Functioning

– Studies have shown that people who use hearing aids show improved cognitive functioning than those who don't, likely due to improved communication between brain signals and external inputs (like sound). People are better able to process language and stay focused when using devices like these than without them.

Reduced Stress Levels

– Hearing loss can lead to elevated stress levels due to increased difficulty in understanding what's being said in everyday interactions. Wearing a hearing aid helps lower this stress and improve overall well-being as it makes these conversations much easier and less stressful for the listener.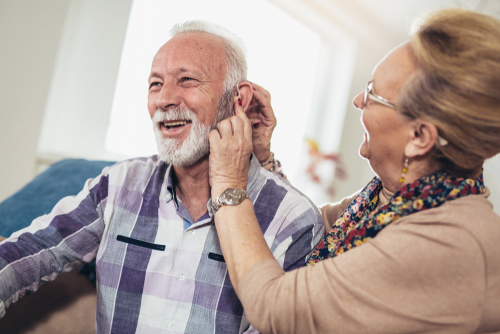 Are Hearing Aids Right for Me?
If you're having difficulty understanding conversations or noticing a decline in your hearing, it may be time to consider talking to your doctor about investing in hearing aids. Here are some key points to keep in mind when making this decision:
Talk To An Audiologist

– The best way to determine whether hearing aids are right for you is to schedule an appointment with an audiologist. They can evaluate your current level of hearing and provide personalized advice on the type of device that would work best for your specific needs.

Determine What You Need

– Consider what it is you hope to get out of wearing a hearing aid – such as better speech clarity, improved listening ability, reduced background noise, etc. – so you can make sure the device you get lines up with those expectations.

Research Your Options

– There are many different types of hearing aids out there and various features that come with them (such as wireless capabilities, volume adjustment options, water resistance abilities, etc.) Do research into these features and read reviews from people who have used devices like these before so you can make an informed decision on which one is right for you.

Take Your Time

-Wearing a hearing aid isn't something that should be rushed into; take the time necessary to weigh all of your options and find the device that works best for you before making a commitment.
If you or your loved one is experiencing symptoms of dementia or hearing loss, contact El Dorado Hearing. We work with patients to ensure they hear better. We will help you learn to live with hearing aids so you can be social, improve your self-esteem, and feel better about living your best life.