Have you noticed that it is becoming increasingly difficult to hear? Progressive hearing loss is a condition where an individual gradually loses the ability to hear. Without treatment, the hearing loss will only get worse over time. However, many individuals with progressive hearing loss don't notice it until it's quite severe, which is why individuals need to be able to pinpoint when they suspect something is wrong with their hearing.
El Dorado Hearing has put together a quick guide to help you understand what progressive hearing loss is, its causes, warning signs, and recommended treatment plans.
Causes of Progressive Hearing Loss
As we mentioned, progressive hearing loss is a type of hearing loss that develops over time, often starting as mild hearing loss and progressing. Oftentimes, individuals with progressive hearing loss don't notice the condition until their hearing loss is moderate or severe, especially if they're only experiencing it unilaterally.
Progressive hearing loss is caused in a few different ways, including:
Age

– As we get older, most individuals experience a decline in some of their senses — including both vision and hearing. This form of hearing loss will not come on suddenly and will decline over time, as it is age-related.

Noise

– While noise-induced hearing loss is often tied to sudden hearing loss, prolonged exposure to loud noises can lead to progressive hearing loss. Taking preventative measures to protect your hearing from loud noises can help prevent or slow down progressive hearing long.

Medication or Illness

– Certain medications or illnesses can also cause an individual to gradually experience hearing loss. This common side effect should be monitored closely whenever possible.

Sensorineural Hearing Loss

– Sensorineural hearing loss (SNHL) is a condition that develops when an individual experiences damage to the tiny hair cells within the inner ear. Without a treatment plan, sensorineural hearing loss has worsened.

Earwax Buildup

– If your ears become clogged with earwax, you may notice it getting more difficult to hear the world around you. Luckily, a quick solution is to get your earwax professional removed and you'll be as good as new.
Because most hearing-related problems are tied to one or more of these causes, it can be difficult to pinpoint if you are suffering from traditional hearing loss or progressive hearing loss. A skilled audiologist will help you determine what is going on and what to do about it.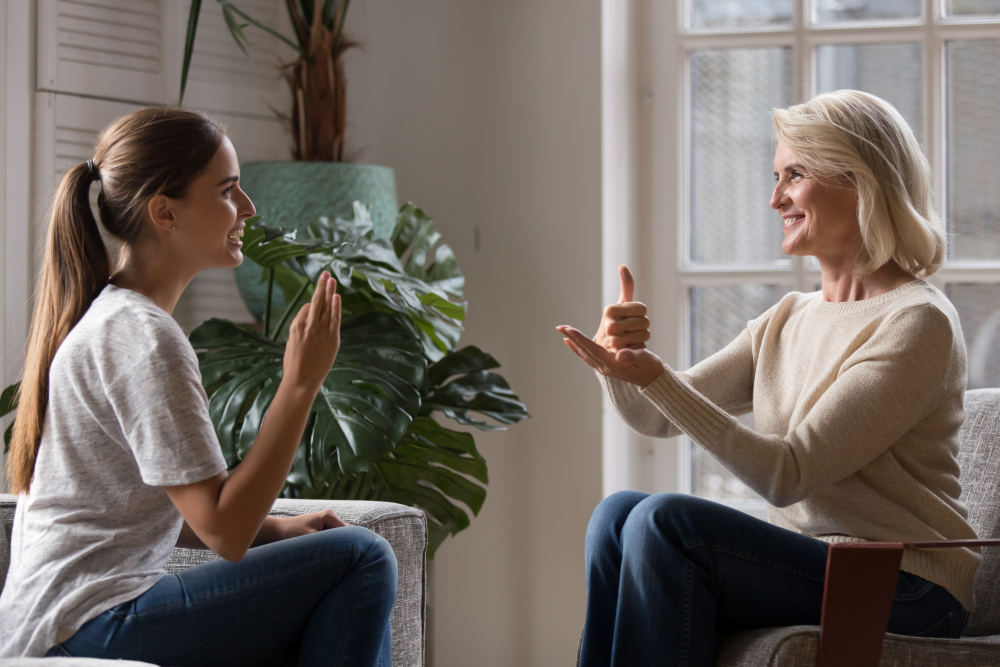 Warning Signs of Progressive Hearing Loss
Whether you are experiencing progressive hearing loss or you suspect another individual is, it's important to be aware of the signs so you can get treatment to make hearing more efficient. 
Look out for the following symptoms of progressive loss:
Asking others to constantly repeat themselves

Unable to decipher conversations

Turning up the volume on the television or radio

Distortion of sounds or misinterpreting words

Inability to hear high frequencies

Difficulty distinguishing high-pitched sounds, such as "s" or "th" 

Ringing in the ears
These are some of the symptoms and signs of progressive hearing loss. However, many of the symptoms of progressive hearing loss are similar to those of hearing loss which can make it difficult to diagnose without a professional hearing evaluation. To prevent your progressive hearing loss from getting worse, schedule an appointment for you or a loved one at the earliest signs of a hearing problem.
Schedule a hearing test with El Dorado Hearing of Tucson, AZ
As you get older, it's recommended that you get your hearing tested more often so your audiologist can pick up on any hearing problems early on. This will allow them to diagnose your condition and provide you with the best treatment plan to prevent your hearing from declining further. 
Schedule an appointment with El Dorado Hearing to get your hearing tested if you:
Have a family history of hearing loss

Are regularly exposed to loud noises

Have difficulty engaging in conversations

Are constantly turning up the volume
Our hearing specialists are highly experienced and provide you with an in-depth hearing assessment to evaluate whether you have hearing loss and the extent to which the loss affects you. For personalized hearing testing in Tucson, AZ, make El Dorado Hearing of Tucson first on your list. We strive to make our hearing offices comfortable where everyone feels welcome.
If you are ready to regain control of your hearing, visit us at one of our hearing clinics. Contact us today to set up an appointment with one of our caring and expert hearing specialists!