Hearing loss is a widespread phenomenon that affects people of all ages and can have a significant impact on one's communication, social interactions, health, and overall well-being. In this blog, we aim to inform readers about the many causes of hearing loss, as well as the early warning signs, prevention, and what to do if you are experiencing it. Additionally, we shed light on the latest advancements in hearing technology so people stay informed about their options. Overall, our blog is a valuable resource that aims to educate about hearing loss, help individuals manage it, and improve their quality of life. 
Causes
For most people, the first thought that comes to mind when thinking about the cause of hearing loss is aging. As we get older, our bodies wear out. While aging does result in hearing loss, it is not the one and only cause of it, so it's important to become aware of the other potential causes. To start, there are two different types of hearing loss, which are
Conductive Hearing Loss.

This happens when sound cannot get through the outer and middle ear. 
Possible causes of conductive hearing loss are as follows
Earwax blockage

Ear infections

Perforated eardrum

Otosclerosis (abnormal bone growth)

Foreign Objects Entering the Ear
If you are unsure if you are experiencing hearing loss, you can take this quiz to test your hearing. If your results show that you may be experiencing hearing loss, then start by seeing if any of the above symptoms are the cause of the problem. If you're unsure, speak to your doctor immediately so it does not get worse.
The second type of hearing loss is
Sensorineural Hearing Loss.

This happens after inner ear damage.
Possible causes of sensorineural hearing loss are as follows
Aging

Loud Noise Exposure

Medications

Genetics

Illness and Infections

Head Trauma

Vascular Conditions

Malformations
If you are experiencing hearing loss and you have ruled out any of the potential symptoms that cause conductive hearing loss, then it's time to consider if the issue is sensorineural. It is possible to have a combination of the two types of hearing loss, and the severity of hearing loss varies from person to person. If you suspect you or somebody you know has hearing loss, it's important to seek professional help to determine the cause of the problem and make a treatment plan.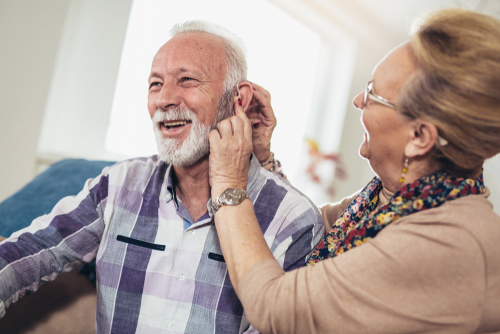 Warning Signs, Treatment, and Prevention
Except in extreme cases, hearing loss develops gradually and the warning signs can be subtle. However, if you know the signs, they can be easier to spot. Some of them are
Difficulty understanding speech and frequently asking for repetition

Increasing the volume on the TV, radio, or your music devices

Misinterpreting spoken words

Difficulty hearing on the phone

Muffled or blocked feeling in the ears

Family and friends noticing
If you suspect you might be experiencing hearing loss, you can take El Dorado's five-minute hearing quiz to be sure. 
The type of treatment received for hearing loss depends on the type of hearing loss experienced and the severity of it. If you suspect you might be suffering from conductive hearing loss, then it's important to seek professional help so the problem can be corrected through medical procedures or medications. If you have permanent hearing loss (sensorial hearing loss) then hearing aids are the most common treatment. In recent years, hearing aids have increased in their technological ability and advancements such as AI, Bluetooth connectivity, customizable sound profiles, and directional microphone arrays have been implemented into the devices for an enhanced hearing experience. 
Additionally, there are other technologies that are used for sensorial hearing loss such as cochlear implants, bone-anchored hearing devices, and assistive listening devices. The US Food and Drug Administration (FDA) has approved an array of these devices and attests to their ability to improve one's hearing and overall well-being. 
If you have hearing loss or are seeking ways to prevent it, then it's best to limit your exposure to persistent loud noise, use ear protection in noisy environments, avoid ototoxic medications if possible, and work with a medical professional team to monitor your hearing. 
There are two main types of hearing loss that can affect anybody at any time, depending on the circumstances. Conductive hearing loss is when noise is blocked from the ear, and can be treated with medical attention in most cases. Sensorineural is when the inner ear is damaged, causing permanent hearing loss to varying degrees, and calls for intervention strategies such as hearing aids. Take action in preventing, protecting, or treating your hearing loss, and visit El Dorados Hearing Center today.