Although hearing aid technology has drastically improved in recent years, some levels of hearing loss need something more technologically advanced to help with hearing loss. If hearing aids don't provide the assistance required, the individual may be a candidate for a cochlear implant. What exactly is a cochlear implant? What type of hearing loss is a cochlear implant best for? Which hearing loss patients qualify as candidates for cochlear implants? Follow along as El Dorado Hearing shares the answers to all of your most pressing cochlear implant questions.
What Is a Cochlear Implant?
Unlike a hearing aid which can be taken on and off, a cochlear implant is a complex medical device that is surgically implanted and can help those with severe or profound hearing loss to detect sounds. While cochlear implants do not restore an individual's hearing, the device helps provide the sensation of sound to the auditory nerve. The surgically implanted device consists of two parts: an external component (microphone, speech processor, and transmitter) and an internal component (receiver and electrode array). With the external and internal components working together, the individual with severe or profound hearing loss will more easily be able to understand speech.
Cochlear Implant Versus Hearing Aids
If you suffer from hearing loss, you may be wondering how a cochlear implant differs from the most popular treatment option — hearing aids. Hearing aids help to amplify sounds from the world and push those sound waves through the inner ear at a volume that allows the person with hearing loss to decipher the sounds. Unlike hearing aids, cochlear implants bypass the damaged portions of the ear and are fed directly into the auditory nerve. While it will not necessarily restore an individual's hearing, it makes it possible for the person to understand sounds or pink up on speech they would have otherwise missed.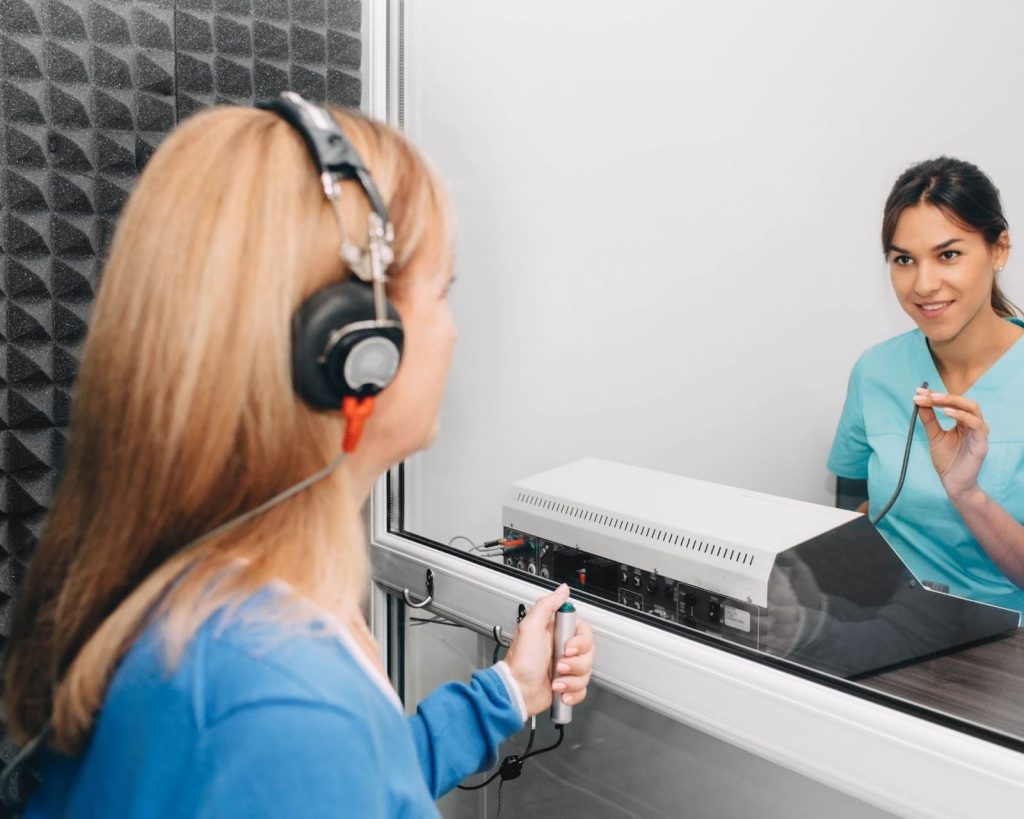 Who Is a Candidate for a Cochlear Implant?
Cochlear implants are the recommended treatment plan for individuals with moderate to profound hearing loss in both of their ears that haven't had luck with hearing aids. To determine if they are a good candidate for a cochlear implant, the patient will undergo a hearing evaluation while wearing their hearing aids. If they do not pass the hearing test while wearing their hearing aids, their hearing specialist will likely suggest a cochlear implant.
However, there are steps the patient must take before having the cochlear implant surgically inserted. The patient will be required to undergo both an audiological and psychological evaluation, medical examination, and imaging studies to ensure they are going to be a successful candidate for the surgery. Once approved for a cochlear implant, the individual will undergo a three-hour surgery where the internal component is placed. After a few weeks to heal, the patient will be fitted with the external component so their new implant can begin working.
Although cochlear implants don't fully restore hearing, they may make it possible for those with moderate to profound hearing loss to take in and understand sounds and speech from the world around them. If you aren't sure whether you qualify as a candidate for a cochlear implant, schedule an appointment with a hearing specialist who can take you through your options for improving your hearing.
Schedule a Hearing Test with El Dorado Hearing of Tucson
We provide complete evaluations at El Dorado Hearing to assist in managing your hearing loss. Our hearing specialists are highly experienced and offer an in-depth hearing assessment to evaluate whether you have hearing loss and the extent to which the loss affects you.
If the hearing evaluation uncovers that you are experiencing moderate to profound hearing loss that isn't responding to hearing aids, our team will be able to provide you with a recommended treatment plan. While hearing aids can sometimes help to restore a patient's hearing, you may qualify for a cochlear implant if your hearing loss is bad enough. For personalized hearing testing in Tucson, AZ, make El Dorado Hearing of Tucson first on your list. We strive to make our hearing offices comfortable where everyone feels welcome and are more than happy to walk you through all the treatment options that may be the right fit for your hearing loss.
If you are ready to regain control of your hearing, visit us at one of our hearing clinics. For the best hearing technologies that Tucson has to offer, contact us today to set up an appointment with one of our caring and expert hearing specialists!