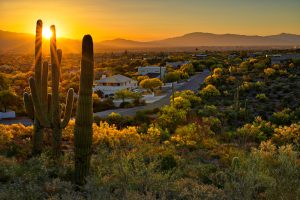 Have you noticed a constant ringing sound in your ears? Are you frequently asking your friends and family to repeat themselves? Does the television never seem to be loud enough? Hearing problems can be a major inconvenience — especially if they go undiagnosed and untreated.
Whether you're experiencing a constant ringing in your ear or noticing warning signs of hearing loss, it may be time to schedule a visit with El Dorado Hearing's leading audiologists in Catalina Foothills.
When you schedule an appointment with our team, you can have peace of mind knowing we will perform a thorough evaluation, diagnose the issue, and provide a recommended treatment plan. Follow along to learn how El Dorado Hearing can help Catalina Foothills residents.
Tinnitus Testing in Catalina Foothills
Most people experiencing hearing loss will also experience tinnitus, which is characterized by a constant ringing sound in one's ears. Tinnitus isn't a medical condition but a symptom of an underlying condition, such as an ear injury, hearing loss, or circulatory system disorder.
It's important to understand the causes of tinnitus so individuals know when it's time to call the leading audiologists in Catalina Foothills:
Loud noises – Short-term and long-term exposure to loud noises can permanently damage the ear and cause a ringing or hissing sound.
Age – Hearing often gets worse with age, which is why tinnitus is more frequent among older individuals.
Excess earwax – Excess earwax can irritate the inner ear and cause a constant ringing sensation.
Without a recommended treatment plan from a hearing specialist in Catalina Foothills, you may have a hard time communicating and concentrating because of the frustrating ringing sound. At El Dorado Hearing, we never want you to feel left out of the conversation, which is why we offer unparalleled tinnitus testing in the Catalina Foothills area. Following the evaluation, our audiologists in Catalina Foothills will provide a few treatment options to help you manage your tinnitus.
Contact the experienced team at El Dorado Hearing to schedule an appointment for tinnitus testing near Catalina Foothills.
Hearing Loss Treatments Near Me
Hearing loss can sneak up on you faster than you realize. One day you find yourself asking others to repeat themselves a few times, and the next, you can't follow along with the movie you're watching at RoadHouse Cinemas. We rarely understand how much we rely on our hearing until we have trouble hearing the world around us.
If you have noticed diminished hearing, reach out to the Catalina Foothills audiologists of El Dorado Hearing sooner rather than later. The faster we address your hearing loss, the better the outcome will be to preven further damage.
El Dorado Hearing of Catalina Foothills performs hearing evaluations to uncover the root of the issue. Following the evaluation, you will receive a customized treatment plan from our skilled audiologists with suggestions, such as hearing aids or hearing protection. We will work with you hand-in-hand to get your hearing restored to the best of our ability.
Stop searching "hearing loss treatments near me" and call the experienced audiologists in Catalina Foothills!
Things to Do in Catalina Foothills
Are you visiting the Catalina Foothills area? Or are you a long-term resident of Catalina Foothills looking for some new restaurants and local attractions to try out? Whatever the case may be, here are a few of our favorite things to do in the Catalina Foothills, AZ area:
We take pride in being the leading audiologists in Catalina Foothills and look forward to serving you and your family. Contact our Catalina Foothills hearing experts to schedule your hearing evaluation.